Source: U.S. Energy Information Administration, Preliminary Monthly Electric Generator Inventory. Note: Data include facilities with a net summer capacity of one megawatt and above except for solar, which also includes small-scale distributed solar photovoltaic (PV) capacity. Distributed solar PV additions in 2014 exclude January 2014 additions. All data reported in alternating-current megawatts (MWAC).
Wind, natural gas, and solar made up almost all new electric generation capacity in 2015, accounting for 41%, 30%, and 26% of total additions, respectively, according to preliminary data. The data also show a record amount of
distributed solar photovoltaic (PV) capacity
was added on rooftops throughout the country in 2015. The trend of wind, natural gas, and solar additions making up most new capacity is
likely to continue in 2016
.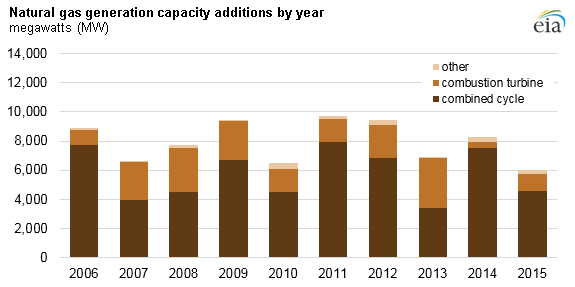 Natural gas. Natural gas additions, mainly combined-cycle plants, were lower in 2015 than in recent years. New Jersey and Texas together made up half of all natural gas additions.
Utility-scale solar.
California added more than 1,000 MW each of utility-scale and distributed solar PV capacity, accounting for 42% of overall solar additions in 2015. North Carolina added 720 MW of utility-scale PV, more than double the amount added in the state in the previous year. In Nevada, the 110 MW Crescent Dunes concentrating solar thermal plant with energy storage
came online in 2015
along with several solar PV plants totaling 236 MW.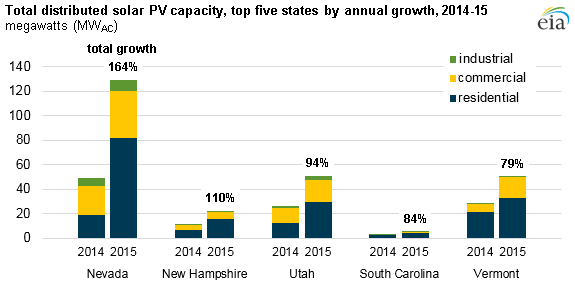 Distributed solar PV.
Distributed PV saw significant growth in 2015,
particularly in the residential sector
, where total installed capacity rose much faster over the year than in the industrial or commercial sectors. While still far behind
top distributed solar PV states
, several states saw notable growth in 2015, including Nevada, where distributed PV capacity more than doubled from 49 MW to 129 MW. Further growth of Nevada's distributed PV sector, however, is uncertain because Nevada's Public Utility Commission
recently approved several changes to the net-metering tariffs
, including phasing in lower net-metering compensation rates and higher monthly fixed charges for distributed PV customers. These changes are an effort to address concerns about grid maintenance costs being shifted disproportionately from customers with solar systems to non-solar customers.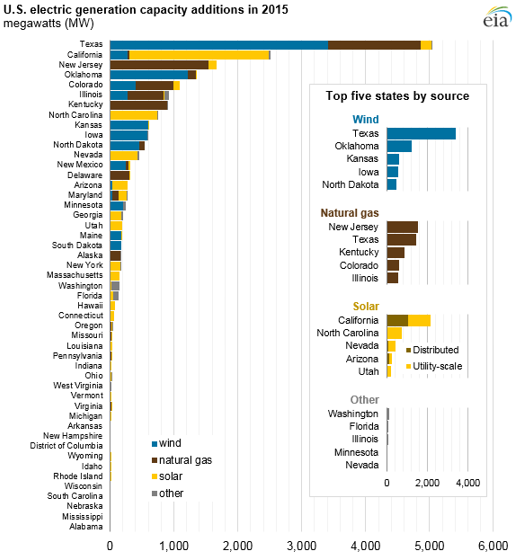 http://www.theenergycollective.com/todayinenergy/2324526/wind-adds-most-electric-generation-capacity-2015-followed-natural-gas-and-sola